---
Does Your Patient Examination Chair Help or Hinder Patient Results?
In addition, I've replaced all of my examination chairs and operating tables with superior capabilities that work better to position patients for the specific type of procedure they are having. This results in being able to bring them the best outcome possible. I have found that I deliver better results to my patients when I am in a comfortable position and when the patient is also in a comfortable position. These new chairs enable that.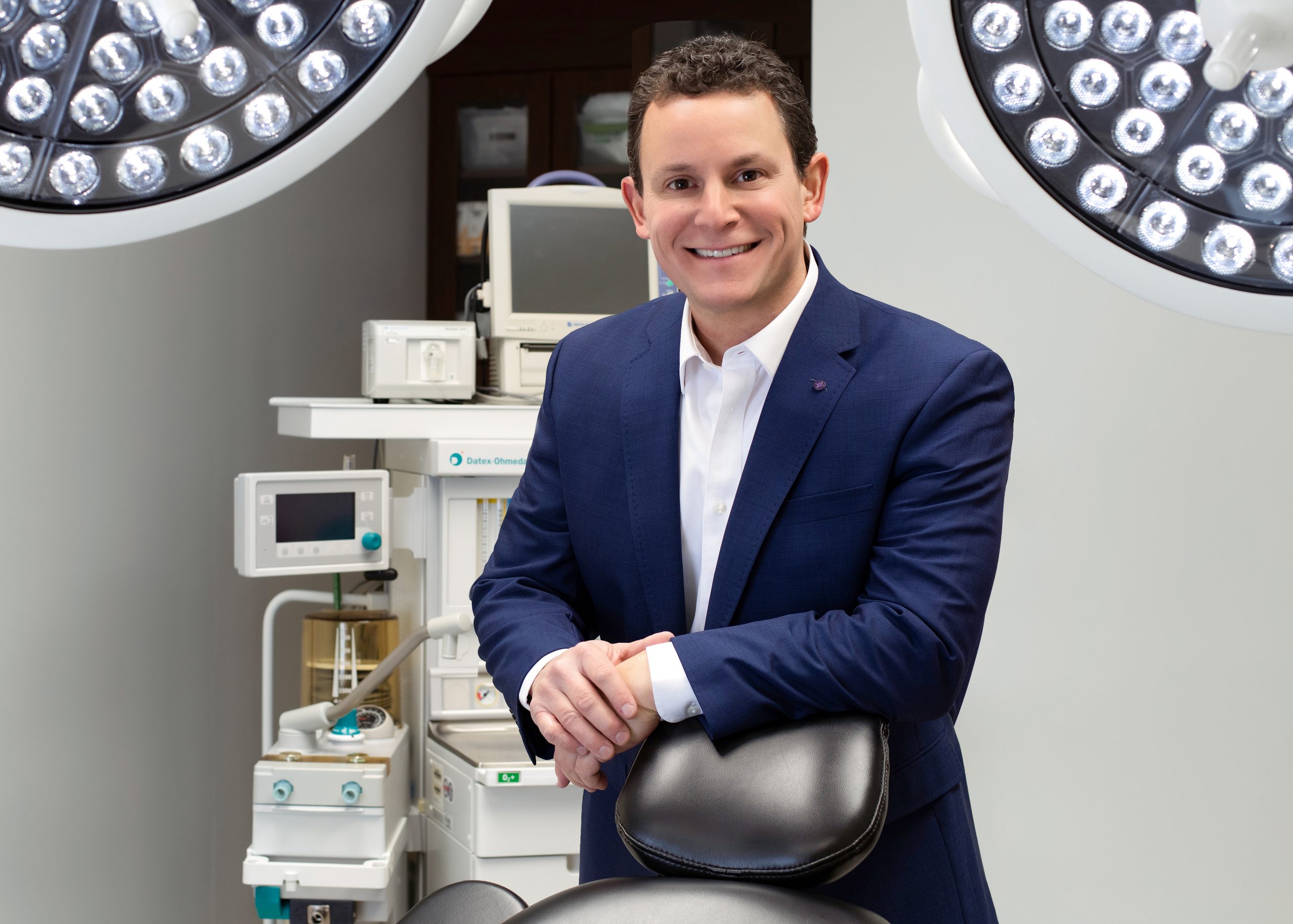 Dr. Steven Constantine of Salt Lake City, Utah standing in the OR with the MTI Patient Chair
Purchasing OR equipment can be expensive because much of it is built to last the lifetime of a practice. What prompted you to invest in new chairs when perhaps the your older ones were likely adequate?
I'm serious about delivering my best to patients, and I believe that the environment with which I surround myself and my staff plays a large part in that delivery. I'm just not okay with adequate, and even though the chairs we had were sturdy, durable and long lasting, they didn't offer all the features and comfort that I needed for my practice and my patients. After doing a great deal of research, I decided that the MTI examination chairs and OR tables offered everything I wanted for my practice.
How do the MTI procedure tables and chairs compare to others on the market?
The new tables are versatile enough for many different medical professionals and their needs, but for the plastic surgery industry, they had all the features I both wanted and needed. When I perform delicate and detailed facial aesthetic procedures, it is important for me to be able to get very close to the face and neck and without constantly moving the patient's head side to side. The upper back of the table tapers towards the head and neck area so that I can work on both sides of the patient at a very close angle without disturbing them in any way.  It also has an articulating headrest, so that I can place the patient's head in the most ideal position when necessary for a broad variety of procedures.
One of the great features of the chair is that the back can go upright into a 90-degree position. This is ideal when I perform breast procedures; augmentation, lifts, reductions, etc., because I can position the patient into an almost standing position and get an accurate view of how the final result will look. Also, the table is 24 inches wide (it comes as wide as 30 inches) which is about four inches wider than a typical operating room table that you'll see in a lot of hospitals. What that means is that we can accommodate a larger-sized patient, and as we offer solutions to many post-bariatric surgery patients and post-weight loss patients, that extra table width really makes a big difference.  Plus, the chair has a 650 lb weighted-lift function capacity so we can perform these procedures with total ease for patients of almost any size.
While these features are great for patients, they also help me and my staff on many levels. Most of all, we no longer need to put extra strain on our own bodies trying to move, lift or even angle ourselves in positions that are unnatural. This, again, helps us deliver superior results to patients.
Are you able to easily heighten the chair, lower the chair depending upon the procedures?
Yes, the table has a variety of different settings. You can put the table into the trendelenburg position, set it in a beach chair position, etc. For my tummy tuck patients, I will often put the patient in a beach chair position during the procedure so that I can more accurately perform surgery, and I feel that we get a better outcome this way. When I did my initial research on OR equipment, it was difficult to find anything that compared to the MTI products in which I eventually invested.
What is your favorite design feature of the MTI chair?
Some think a chair is a chair, but to me this chair makes all the difference in helping me and my staff deliver exceptional results in a way that is comfortable. I feel it is more than just another piece of equipment or office accessory. Overall, it is the cornerstone of every procedure we do, and its smooth functionality and flexibility also help save time during the procedure, which is important to the overall outcome.
It is also very stable, sturdy, and reliable, and it has been a wonderful addition in my practice. My favorite feature is the programmable foot control combined with a 90-degree upright back position so I can easily move the chair myself, versus relying on nursing staff or an anesthesiologist to provide this function while I am operating on the patient. It saves time, and gives me more control in the OR, which I feel is important on many levels.
Is there any procedure where this chair really helps make a difference?
For my needs in particular, it's just perfect because it accommodates both the facial aesthetic patient as well as the patient that wants other types of procedures on the body. I can easily perform tummy tucks, liposuction, breast augmentation and other breast procedures, labiaplasty procedures, full body lifts, arm lifts, thigh lifts, and more without having to move patients around. I would say the tapered back does make a difference, as it allows me to get very close to the patient's head and neck when doing meticulous and intricate facial plastic procedures, as well as fillers and other close-up facial procedures.
You mentioned that the hydraulic lift on the chair is very quiet. Why is this feature important?
When a patient comes in for a procedure, especially when it's around their face, they already have a certain amount of anxiety, and if you place then in a chair that's uncomfortable, rickety and loud, it just doesn't add to the experience in a positive way. But when you sit them in a chair that's stable, comfortable and operates smoothly and without noise, it helps them relax and actually enjoy the process.
Aesthetic surgery following extreme weight loss is an area of growth. How is the MTI 540 Exam Chair perfect for this type of patient?
As mentioned earlier, my chair has four inches more width than standard hospital chairs. But it's not just the extra width that is ideal; it's also the weight limit capacity. It provides a platform that is secure for heavier, larger patients. Even when they have lost a tremendous amount of weight, they generally still have a lot of loose skin that is heavy and often hangs over the edges. The wider chair with an easily maneuverable hydraulic system that accommodates up to 650 lbs is essential for this patient population.
How many treatment rooms do you have, and do you have an onsite OR?
My facility is a state-licensed office-based surgical center where we are able to perform all cosmetic surgery procedures. We also have five different examination rooms, two operative suites and an overnight care facility with 24-hour nursing.  Additionally, we offer two large medical spa rooms for our laser, skin care and aesthetic treatments. We also created a CoolSculpting Suite™ with all the amenities and a private bathroom. It's a great facility, which offers comfort, privacy and convenience.
What would you say to another physician who was considering the MTI chair to update their current examination chairs?
Should people have questions for me, I'm happy to answer any of them and I am happy to welcome other physicians to my practice so that can try them out for themselves. I believe it's one of those purchases that you just don't have to think too much about, in the end. It literally has been one of the best purchases I've ever made during this entire project, and I have no reservations in recommending MTI to other physicians.
To listen to Dr. Steven Constantine's interview at Aesthetic Insider™ Radio, CLICK HERE!
---
Read the original article here.