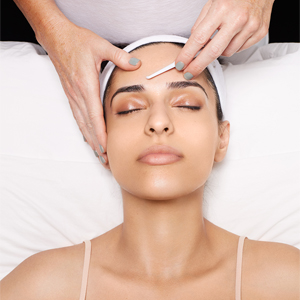 We all have dead skin cells and fine hair on our faces. Both of these contribute to some annoying skin problems like dullness and breakouts. A simple solution to these problems – and easy add on to most other skincare treatments – is dermaplaning. 
Dermaplaining is a treatment that involves a licensed medical aesthetician using a surgical scalpel to scrape the skin to remove dead skin cells and peach fuzz. This results in a brighter, glowy, smooth skin and can reduce acne breakouts by helping unclog pores during the treatments. Dermaplaning also provides a softer, cleaner base for skincare product penetration and makeup application.
In the hands of a professional, dermaplaning is safe for all skin and Fitzpatrick types. However, a few skin conditions do not favor dermaplaning. Those with sensitive skin, rosacea, and keratosis pilaris should avoid this treatment or if you have inflamed acne as it can irritate them and cause further breakouts.