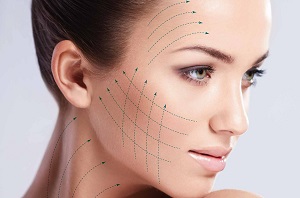 The most effective way to address problems caused by facial and neck skin laxity—such as jowls and drooping cheeks—is through having a face/neck lift surgery. While there are many treatments that can help aid in improving skin laxity such as skin resurfacing and injectables, only surgery can truly remove it. 
However, we understand that some patients are not interested in surgery but would like to receive the benefits of a "lunchtime lift." For these patients, a PDO thread treatment, or thread lift, may be the right procedure for you. 
What are Thread Lifts?
A PDO thread lift treatment is a minimally-invasive procedure that lifts and tightens sagging skin tissue using threads made of Polydioxanone (PDO). Polydioxanone is a dissolvable suture that is used regularly in many surgical procedures. 
The threads are inserted into the treatment area with a needle and anchored, lifting the skin and tightening the desired area through the length of the thread.
PDO threading helps combat aging not only in the shorter term lift but also in another way: it stimulates the body's natural healing response which causes the body to produce increased collagen in the treated areas. 
The threads will naturally dissolve approximately six months after the procedure. At this point, your increased collagen production will already be underway.





PDO Thread Lift FAQs
When Will I See Results?
Immediately. You may also see some additional swelling due to the injections for the first 2-3 days.
What areas can be treated with a PDO thread lift?
Thread lifts are versatile and can be used for many facial and body areas. Almost anywhere you are bothered by loose or sagging skin, a thread lift can help. A consultation with a PDO thread certified nurse is required to provide a treatment plan. Our nurse injectors are all certified in PDO threading processes, procedures, and techniques. 
Facial Thread Lift Areas
Jowls

Neck

Nasojugal folds (neck)

Nasolabial fold (face)

Jawline

Cheeks

Wrinkles around mouth

Wrinkles and fine lines around the eyes (crow's feet)

Eyebrows
Body Thread Lift Areas
Breasts

Abdomen

Arms

Legs

Knees

Buttocks

Hands
How Long Does a Thread Lift Last?
Immediate skin tightening and lifting. Characteristics of the skin continue to improve over the following 4-6 months with more noticeable lifting. Tissue changes continually improve during this time due to collagen formation around the injection site and threads. At this point, collagen production is in process and beginning to improve the skin in the area. 
Around the six month mark, the PDO thread naturally begins to breakdown. The final result is preserved for 12-24 months depending on the age of the patient and metabolic activity of the skin cells in the area. 
How Long Does the Treatment Take?
Most treatments require 60-120 minutes for the procedure. This is dependent on the number of threads needed and areas treated.
Does it Hurt?
Discomfort is minimal to moderate. Your injector will use numbing cream, local anesthetic injections, and/or ice packs to aid with treatment and for enhanced patient comfort.
Recommended Frequency
As desired to maintain. 
How Much Does a Thread Lift Cost?
The cost of a thread lift is dependent on the extent of the procedure, the number of threads required for the desired amount of lift, and the number of areas treated. 
Are Thread Lifts Covered by Insurance?
Like most cosmetic procedures, thread lifts are elective, most insurance carriers will not cover the cost. Constantine Cosmetic Surgery offers CareCredit, a healthcare and beauty financing company, for our patients which can be used on a variety of procedures we offer.
Medications to Avoid
Discuss with us and your primary physician your exact medication list prior to stopping any prescribed or over the counter medication. 
Generally speaking, avoid for 3-5 days prior to your treatment your blood thinners such as aspirin, steroids, ibuprofen, alcohol, omegas, flaxseed oil, fish oil, vitamin D3, and vitamin E, ginseng, and garlic.
Possible Side Effects
Localized redness, tenderness, swelling; puckering of skin which generally resolves on its own over a few weeks, firmness, bumps; discoloration, bruising; the very rare possibility of infection.