Erase fine lines, crows feet and wrinkles
Wrinkles on your face are often caused by muscle use, including frowning, concentrating, squinting, or even smiling. These wrinkles form through "active" conscious muscle activation and subconsciously (without you even realizing it). By having us administer Botox®, Dysport®, and Jueveau®, your facial muscles are gently relaxed and the wrinkles soften over time. With regular treatments, you will see a reduction in these wrinkles and an improvement in your overall look. Facial wrinkles from muscle use and facial movement are not just for older individuals – it is common even in young adults. Consistent use of these types of injections, called neurotoxins, can potentially prevent wrinkles caused by facial movement from ever forming.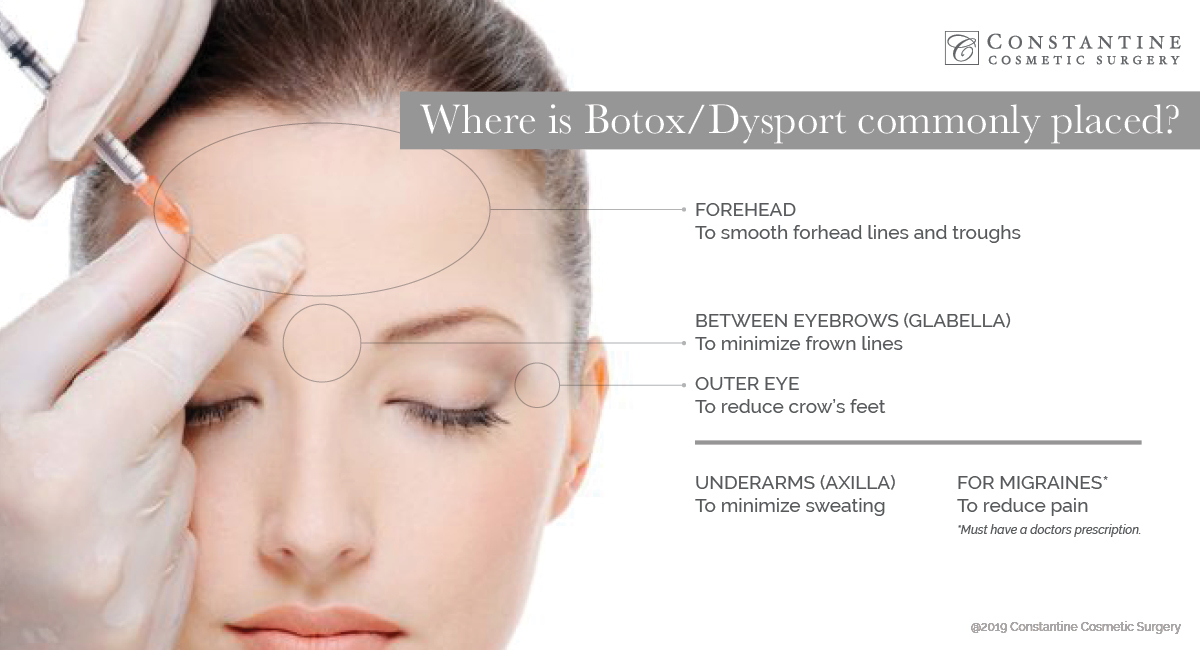 Facial lines can make you look tired and older than you actually are – but by using these products, you can look younger and more rested. These are medications that are injected into the muscles of the face by our qualified healthcare professionals at Constantine Cosmetic Surgery to temporarily reduce wrinkles between the eyebrows (frown lines), forehead/furrow lines, crows feet (to the sides of the eyes), and can be injected to give you a lateral brow lift. In addition, they can be injected to smooth out areas of the neck, the muscles of the jaw can help with temporomandibular joint (TMJ) issues, treat excessive sweating of the underarms and, in some individuals, help alleviate headaches.
Your face will still look the same after these simple, minimally invasive injections. They simply soften the wrinkles, lines, and tension in the injected areas. All non-treated areas of the face will still be the same.
Each of these products have specific loyalty programs. Depending on what you and your injector decide are best for you, talk to us about joining the appropriate program to earn points towards future treatments.
---
WHEN WILL I SEE RESULTS?
Within 5-7 days, you will see the beginning results from your Botox, Dysport, and Jueveau injection. With the relaxation of your muscles, your wrinkles will improve over the next couple of weeks; full effects will be seen within 14 days.
HOW LONG WILL THESE RESULTS LAST?
Typically, benefits from Botox, Dysport, and Jueveau last an average of 3-4 months. Individual results will vary and you should discuss this with us when you come in for your treatment.
TREATMENT TIME:
10-20 minutes Discomfort is minimal. May use an ice pack to aid with treatment.
RECOMMENDED FREQUENCY OF TREATMENTS:
Every 3-4 months for the face. Underarm treatments for sweating can last 6-12 months.
MEDICATIONS TO AVOID PRIOR TO TREATMENT:
Discuss with us and your primary physician your exact medication list prior to stopping, but typically avoid your blood thinners (such as aspirin, ibuprofen, alcohol, omegas, flaxseed oil, fish oil, vitamin D3, and vitamin E) for 3-5 days prior to your treatment.
POSSIBLE SIDE EFFECTS:
Localized redness, tenderness, swelling, subtle bruising, mild headache, very rare possibility of eye droopiness or infection.