Get Back on Your Feet Faster
We offer our surgical patients a combination of prescription medication for pain and proven supplements to promote faster healing. The Recovery Support System is a comprehensive one-month program provides a unique combination of nutrients to support wound healing, promote healthy immune system function and balance the natural inflammatory response. The Recovery Kit includes: Clinical Support Morning, Clinical Support Evening, Bromelain with Quercetin and Arnica Montana 30X.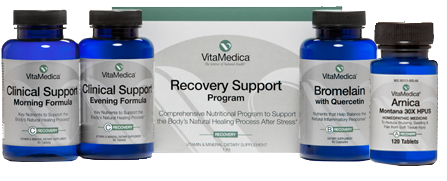 How It Works
Vitamin C and selenium help reduce free-radicals generated from surgery and anesthetic agents. Vitamin A, copper and zinc promote wound healing and enhance immunity. Arnica montana provides relief from bruising, swelling, and soreness. Because of these healing powers, we recommend our patients undergoing our cosmetic surgeries and even following injections take the Recovery Support System.
Using the Recovery Support System allows you take a more active role in the healing process and help you look and feel your best – more quickly – after surgery.
Developed by an anesthesiologist for his surgical patients
Arnica montana, Vitamin A, and Vitamin C promote wound healing
Selenium, bioflavonoids and other antioxidants deactivate free-radicals
Bromelain & quercetin balance the natural inflammatory response
B-complex morning formula supports energy levels in the day
Mineral-intensive evening formula promotes rest in the evening
Excludes vitamin E and other herbals
Gluten-free
Made in U.S.A.