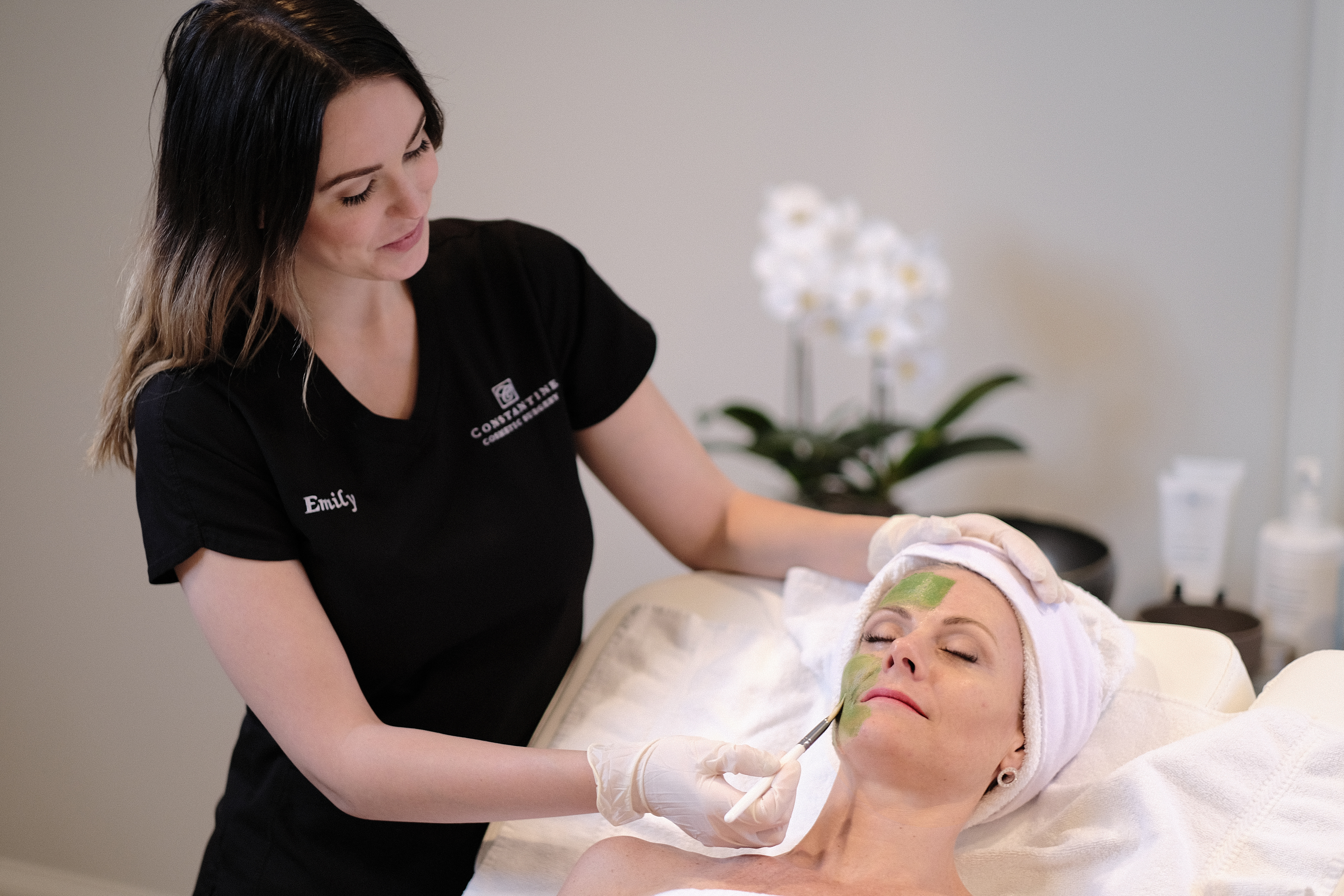 Not all facials are created equal. 
Constantine Cosmetic Surgery offers our "Signature Facial," a medical-grade facial that clinically improves the quality of skin with consistent treatments. Created as a monthly treatment, we customize the facial to each of the Utah seasons and the patient's personal skin needs. This treatment is for those who care about the quality of their skin.
Targeted for dry climates and high altitudes, this custom-blended facial helps to firm, hydrate, correct, and clarify the skin to restore its optimum texture, look, and feel. This intensive facial provides maximum results with each and every treatment.
Luxurious and therapeutic, the Signature Facial is the perfect prescription to keep your skin looking and feeling beautiful.
The Treatment
We begin with double cleanse and a thorough evaluation of your skin so that we can customize your treatment and products towards your concerns.
Medical-grade microdermabrasion exfoliates away dead surface skin cells, preparing the face for optimal cleansing and absorption of active ingredients.
Enzymes are applied to smooth away remaining dead skin. This also softens the skin to prepare it for extractions.
A thorough full-face extraction protocol is completed.
Based on your skin type and specific concerns, your Clinical Aesthetician will select a medical-grade treatment mask. Masks have an immediate and lasting impact on your skin quality. 
This treatment is finished by layering carefully selected serums, luxurious hydrators, and lastly a sunscreen. You will leave relaxed while looking and feeling your very best.
Your Aesthetician will always provide recommendations for an at-home skincare regimen, which will include medical-grade products available exclusively at clinics like Constantine Cosmetic Surgery.
---
For more treatment details, including pricing, please call us at (855) 383-7546. To schedule your Signature Facial with us online, please book your appointment here.
Time: 60-75 min*  • Recommended Frequency: Monthly  • Downtime: None • Package Options: 3+ for 20% off
*Timing for the above treatment may vary depending on individual needs given one's skin condition.