Venus Viva Skin Rejuvenation
Venus Viva works with tiny pins that safely deliver heat (via NanoFractional RF™) through the skin's surface. This creates tiny micro-dermal wounds – shown in the image to the right – which the body then works to heal naturally. This process is what repairs signs of skin damage seen on the surface of the skin. And because the wounds are so small, the treatment is much more comfortable than lasers. The result is smoother, healthier skin with minimal downtime. This treatment is amazing for stretch marks, scar rejuvenation, and acne scarring. Venus Viva also reduces the appearance of  fine lines and wrinkles.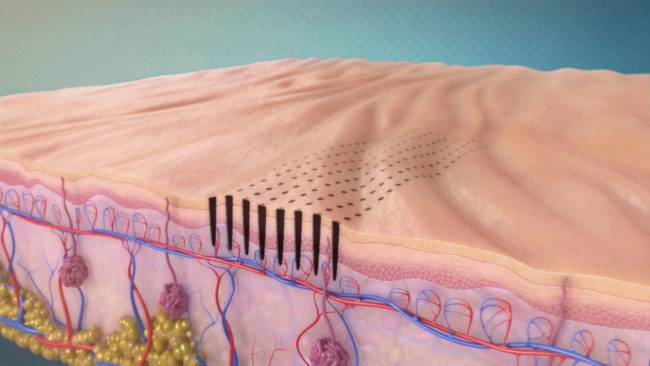 Diamond Polar Skin Tightening
Venus Viva also works to target fine lines and laxity with the non-invasive DiamondPolar™ applicator, which uses Multi-Polar Radio Frequency and Pulsed Electro Magnetic Fields to produce uniform heat on the skin. Skin tightening and wrinkle reduction occur when radio frequency causes a heat reaction in the tissue. This reaction stimulates the body's natural healing response and causes new collagen to form, along with the increased production of new elastin fibers, which results in firmer, smoother skin.
Use these technologies together and achieve amazing results. Constantine Cosmetic Surgery recommends three Venus Viva treatments spaced four weeks apart paired with nine weekly DiamondPolar treatments.



Venus Viva FAQs
Venus Viva™ is an advanced, non-surgical solution for skin resurfacing that works to improve the overall texture of your skin. It combines two proprietary technologies to help you get smoother, brighter, healthier skin. It does this by reducing the signs caused by conditions that affect the texture of the skin. These include skin damage, scars, stretch marks, large pores, wrinkles and rosacea. Venus Viva is also desirable because of its ability to cover a greater surface area and treat multiple issues in the same session due to its unique design.
Is It Safe For all Skin Types?
Yes, treatments are safe and effective for use during all seasons and on all skin types and tones. However, patients should stay out of the sun and use sunscreen when receiving these treatments as they are subablative.
Is There Downtime?
You will experience mild redness post-treatment; however, you can continue with your daily activities immediately afterward. You can resume wearing makeup 24 hours after your treatment.
Treatment Time
A single treatment session lasts no longer than 30 minutes.
Recommended Frequency
The number of sessions in a treatment program will depend on the individual patient, but typically varies between 3-4 sessions spaced every 4-6 weeks.