Restylane® Injections in Salt Lake City Utah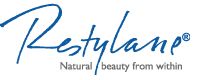 Constantine Cosmetic Surgery offers Restylane® injections in order to improve your skin fitness. Restylane® is a chemical injected into the dermal layer of the skin. It is a safe and relatively pain-free treatment designed to restore your skin's fullness and volume, decreasing the appearance of fine lines and wrinkles. Restylane® can eliminate the deep lines that appear in the nasolabial folds, the pathways between the nose and the mouth. The procedure will take about 30 minutes. Dr. Constantine will administer small injections of hyaluronic acid into the skin zones that you want revitalized. This is the same fluid found naturally in the body's connective tissues where it functions as a cushion and a lubricant.
Many types of hyaluronic acid treatments use rooster-derived hyaluronic acids and bovine collagen products. This is not the case with Restylane®, which uses a clear gel compound called NASHA. The letters stand for Non-Animal Stabilized Hyaluronic Acid, and the company that produces Restylane®, guarantees that none of the NASHA compounds it manufactures contain animal derived products. Restylane® treatments produce no allergic reactions in the patients in which they are administered. Skin treated with Restylane® shows fewer signs of aging and the effect lasts for 6 months.